29 May 2021
Call of Duty Modern Warfare and Call of Duty Warzone permits you to play the game with a variety of different operators, which you can gear into unique skins. They don't give any in-game advantages, nevertheless, users can show off their rare skin to other users, which makes them pretty valuable. In this article, our team decided to create a list of the most precious operators and their skins in Call of Duty: Warzone.
UDT Ghost
Simon "Ghost" Riley from Call of Duty: Modern Warfare 2. His epic look caused him to become a fan-favorite character in the instance. So, Activision decided to add him to the Call of Duty Duty Warzone due to the publicity of the Call of Duty Modern Warfare 2 Campaign Remastered in March of 2020. For you to acquire this operator, you should buy a copy of MW:2 Remastered. After you do it, you will get various prizes: this skin, two guns, and user card awards.
Marsh Demon
This Call of Duty skin for Krueger, which reminds me of NØKK from Rainbow Six: Siege, Marsh demon has the bizarre process of getting. Users that desire to get this operator skin need to acquire the Making CoD: Modern Warfare book, which was released in October 2019 by Activision. This book contains amazing insights from Call of Duty Modern Warfare development and artworks linked to the game. In this book, you are going to find digests that you can insert into the game to open this fashionable appearance for Kruger.
True Victory
The brightest clothes in the COW: MW, True Victory is an appearance for the D-Day character. It consists of azure clothes with a dark bulletproof vest and headband. To get this Call of duty skin, you must finish the Call of Duty Modern Warfare campaign to open the D-Day character. Once you did it, you must buy a can of Mountain Dew's Amp Game Fuel that holds the Modern Warfare brand on it. Next to that, you can insert the code in your account and open this skin.
The Woodsman
This skin is a reference to Joel, the main protagonist of the 2013 PlayStation game The Last of Us. So, it's no surprise that only players who play on PlayStation can obtain it.
Bushranger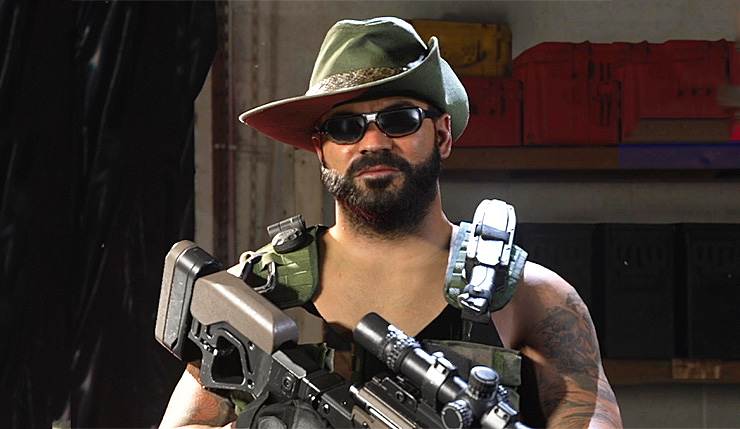 Do you recall the 2019-20 Australian bushfire season? When the furies scorched 186,000 square kilometers of land. Infinity Ward and Activision produced "Outback Pack" and assured that all sales out of it will go to relief organizations. This costs 1.800 CP (20$) and includes an elite sniper Rifle Charlie, a koala charm, Bushranger clothes, and extra cosmetics. So, if you desire to open these clothes, you should buy an "Outback pack".
Snow Force
From flaming Australia, we go to cold Canada. Snow Force appearance was added with the Holideadly bundle in Season One. It is an individual appearance for the Bale character that switches his regular equipment to azure clothes with a red vest. What makes it the most beautiful clothes in the whole video game.
Dark Vision
The fan-favorite clothes, Dark Vision is an appearance for the Ghost character and was solely obtainable throughout Season 2. You could obtain these clothes by finishing certain in-game challenges, but you can't get them any longer. It's just sad.
Dune Hunter
Finally, we made our way to the most precious appearance. This clothes for Mara character was a first season award and only was available to users who ended the list of tasks throughout season One. Dune Hunter looks similar to any other appearance available to the character, though its overall rarity makes it the most craved clothes in the Call of Duty Modern Warfare.
Do you want to become better at Call of duty Warzone or Call of Duty: Modern Warfare on a professional level? Are you tired of dimwitted teammates? FineBoosting came to change this! We present you with Win, Kill, Weapon, Leveling, Officer Rank and daily challenges boosts. It's completely affordable and 100% safe. Just fill the easy form on our site and a team of professionals will help you out. Stop being at the bottom. Level up with FineBoosting!