Despite the simplicity of the game mechanics and lots of guide materials, for most players, it's hard enough to improve their skills and increase their rank. It is a real challenge because most of them still have a rank that is lower than Platinum. League of Legends is one of the most popular Esport games, and you can face professional players, playing on high ranks.
So, how to compete with them, how to become one of them, and how to get better at League of Legends? Answering "How?", we prepared a short list of tips, that will help you to get better at League of Legends.
Analyze your mistakes, and avoid them in the future
The fastest way to learn something is to start doing something. To err is human, it's okay to make mistakes, and they could be useful for you if analyze them. In the game, most mistakes that you can make are connected with your " bad habits":
Greed
Sometimes you can try to catch somebody under the tower and die in the process, it is all because of your greed. You should realize the economy of the game, especially the price of your death, and how it influences the game. While you are dead, your enemies could farm a lot of items, and get the advantage, because you died and left them for the free farm on the lane.
Dying a few times can ruin the match in the future. If you can not fight – just harass your enemy to prevent him from farming. As said previously, you can die under the tower because of your greed, but also because of a distance, that you should keep.
Distance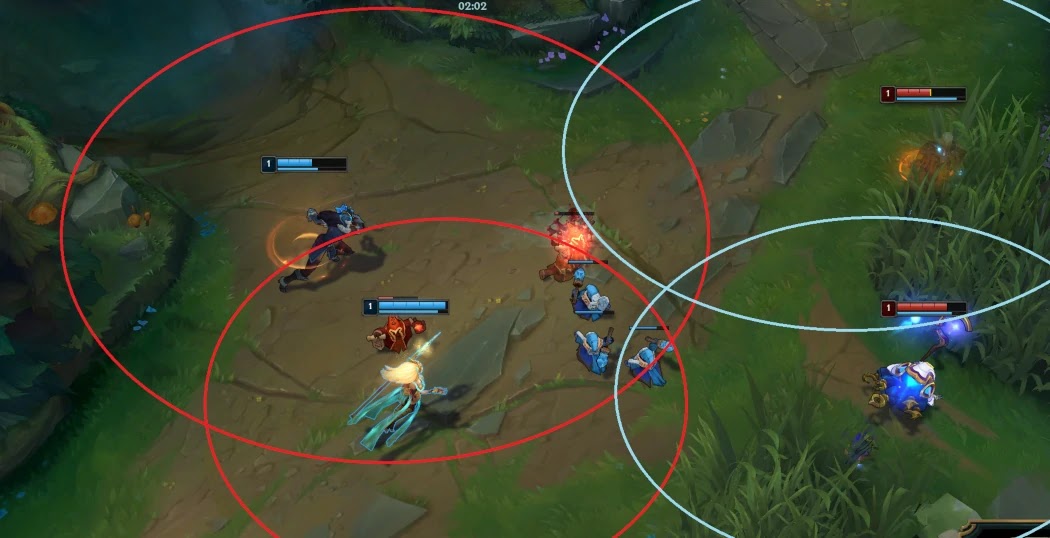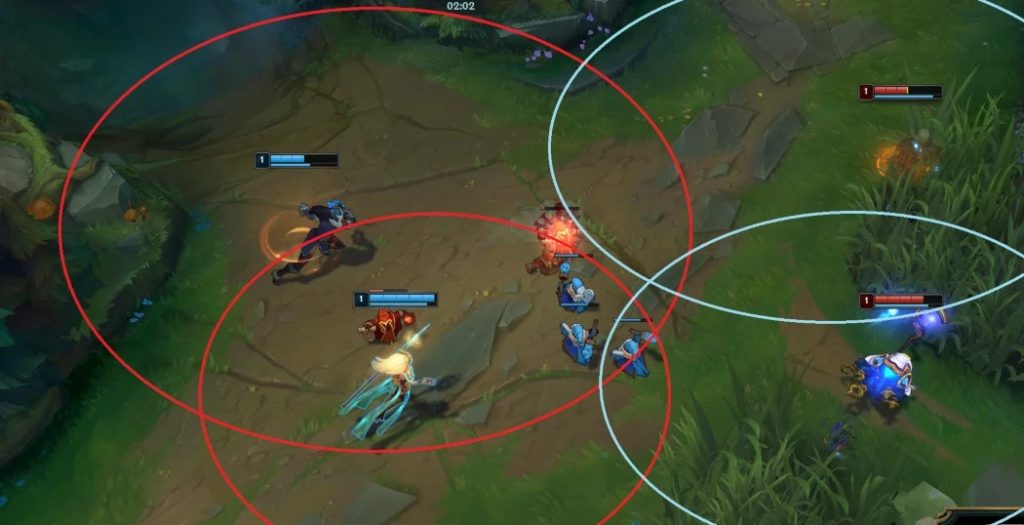 This mistake is as common as the previous one. Keeping the right distance is the main problem for beginners because they have a little practice and often forget to keep the right distance. If you stay too close to the enemy, he will harass or even kill you very soon, you should understand that if you don't have a big advantage over your enemy, your main point should be to farm in the lane, and maybe harass him. If you stay too far, you can't farm and give your opponent time to get the advantage, especially if you stay on the lane with your ally. The enemy can kill him because your ally will fight with two opponents at once.
Health
Having low health you are risking getting critical damage and die. Always check your HP level, and if it's low you better retreat from the fight. Many players are sure that they have enough health points to fight, but sometimes they can count enemies' damage wrong because it's hard to take into account all the aspects that influence the damage.
These are the most common mistakes. Now, let's move to our tips on how to get better at League of Legends.
Laning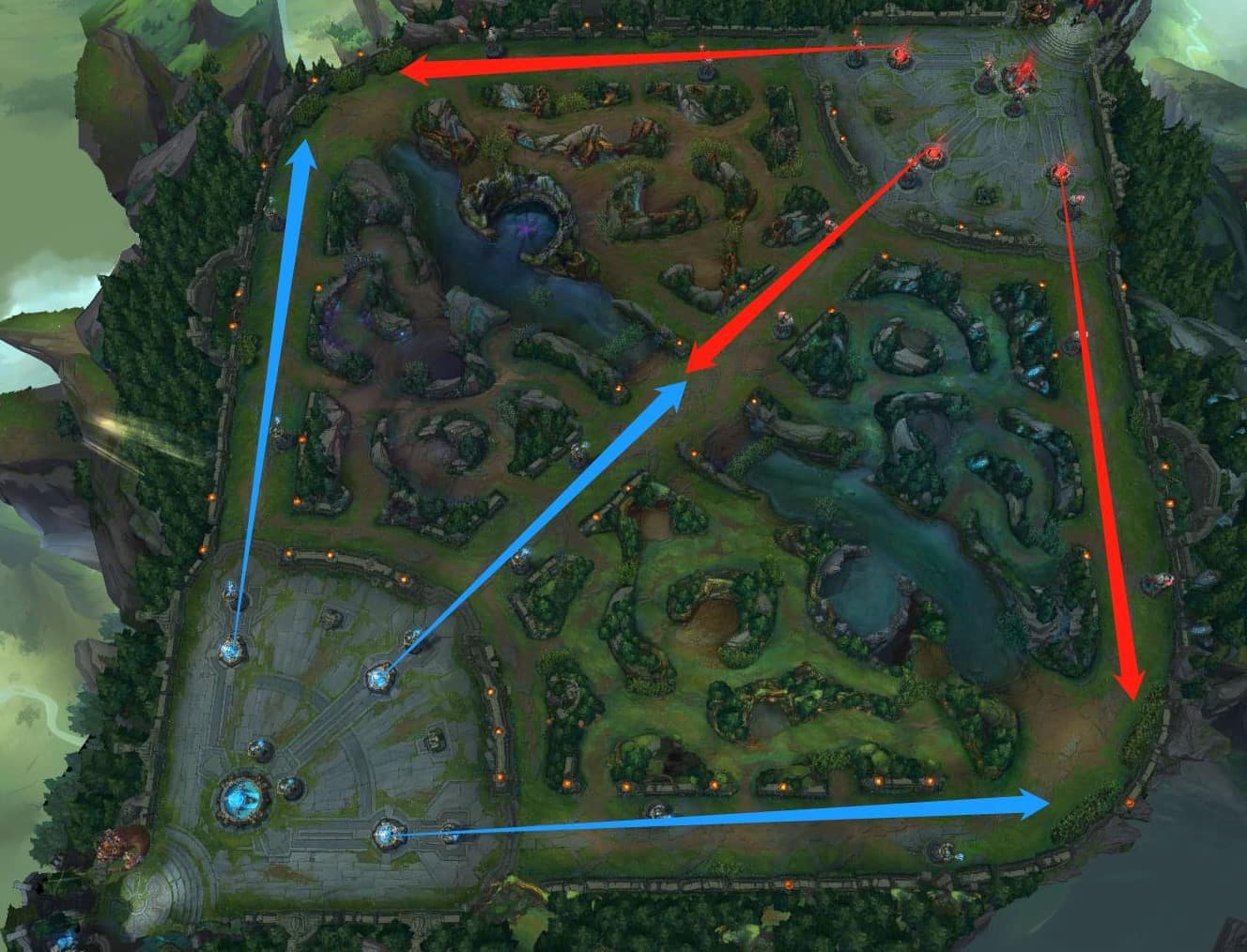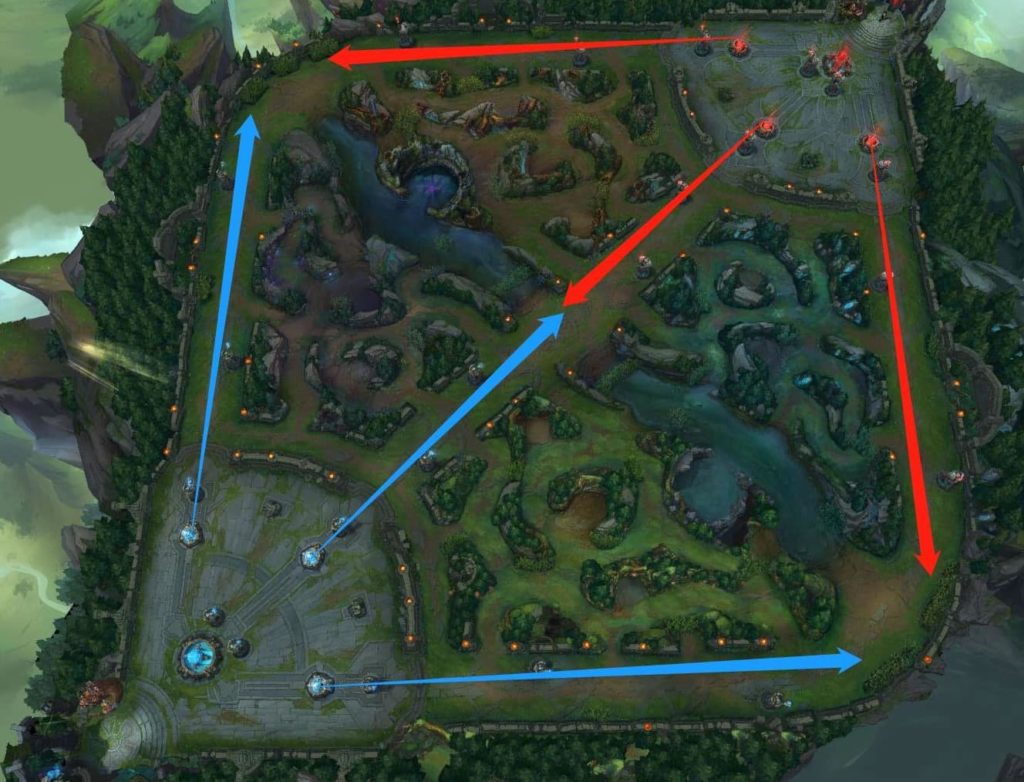 If you are playing as a jungler it's okay to gang other lanes, but if you are not you should stay on your lane till the end of the laning stage of the game. There are a few reasons to do that:
Leaving your lane you give the advantage to your enemies, that can farm more and push your lane pretty fast. At the same time, you will lose your time to farm, and also you will lose your tower soon. It has a great influence on the game and reduces your team's chances to win.
Stealing farm of your ally. It's okay if you left your lane to get some needed items in the shop, but in most cases, players leave it to gang some of their allies. The gang is a standard tactical move, but only if it's needed. Sometimes player leaves their lane if they lose it, or their opponent is too strong to compete with.
They come to other lanes just to farm gold. They don't realize that they stealing this gold from their allies, and make them weak.
So, our piece of advice is to not leave your lane even if you lost the advantage. Try not to die and do your best to win the match.
Champions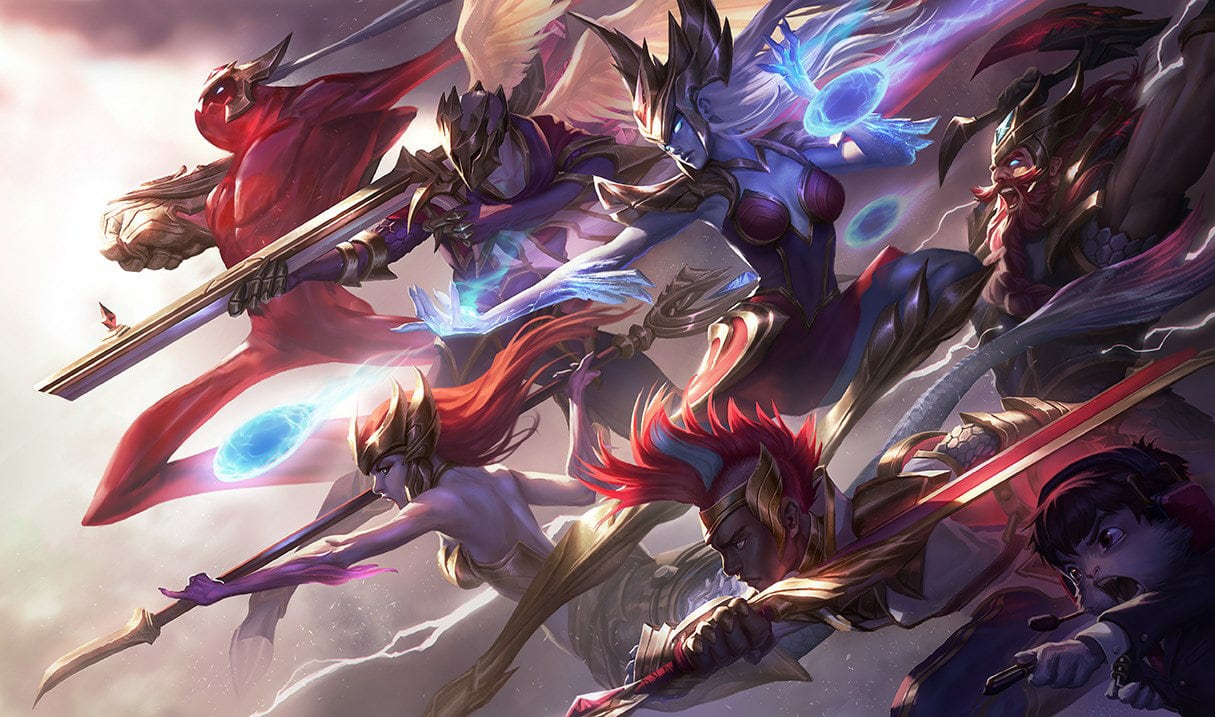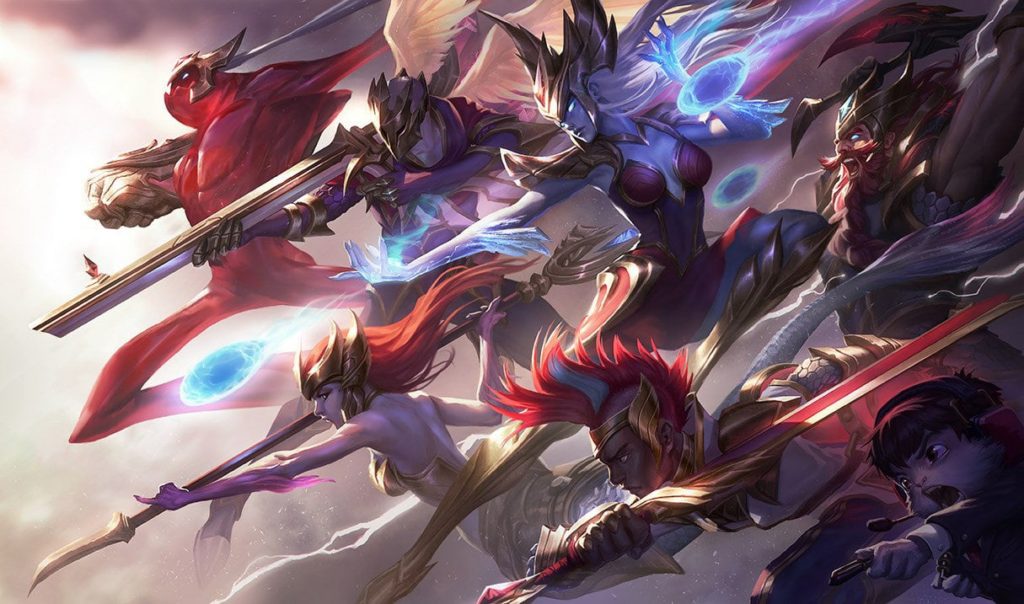 Professional players can play on every champion in the game, but they use only a small pool of them to play in different competitions and tournaments. We also recommend to you create a setup of champions that can you play well and just train them. You should have at least four or five heroes for each role and lane because your setup should be universal. You have to be able to adapt it to any game situation and enemies' champion's pick.
Use all these champions in non-ranked matches, play above twenty matches on each one. You should know exactly all their spells ranges, their normal attack range, attack speed, move speed, variants of what and when to buy, and all other needed stuff. Also, don't forget to check all changelogs after any patches and updates.
Another piece of advice about the champions is that you better start making your setup with simple champions. It's much easier to get used to simple mechanics in the beginning than to start with the hardest one.
There are a lot of guide materials to learn and to use about them, learn the latest info about your champion, abilities descriptions, number of health points, attack range, items recommendations, and all basic info that you need to know before the start of the match.
Streams
To learn something about the champions or tactics, you can watch streams. There are two types of them, and both of them can help you to get better at League of Legends. The first type is professional tournaments, streams of competitions, and other official Esport events.
If it's professional players, they can show you a lot of interesting tactics and features, and you can learn how to do it by watching their streams. They use viable strategies, that will help you to improve your strategies, and in the future, they will help you to compete with high-skilled opponents.
The second type is fun streams, where you can relax and have fun, but also with learning some "how to play" features. Players that make these streams are not always professionals, but most of them are experienced and high-ranked, so you can find something useful on their streams.
Want to take part in battles, crush your enemies on the PvP arena? Raise to the top and show all your talent to worthy opponents! We can help you to reach it. FineBoosting is guaranteed results, affordable prices, and quality. You will have the best service from our professional team. Don't wait anymore, try out FineBoosting!
Launched in 2009 League of Legends became one of the major MOBA games in the video game industry. Competing with Dota 2 for the place of the MOBA king. Matches in League of Legends is the 5 versus 5 competitions in the special area.
Map in this game consists of two basses for the opposing teams. Between these bases, we have three separate lanes: "Top", "Middle" and the "Bottom". On each of these lanes, there are 2 defense towers. Every team has its own minions, who help players to destroy the enemy defense. Besides that, between Top and Middle, there is the "Jungle". Additional one we have between the middle lane and the bottom lane. Neutral minions populate these areas.
At the start of each game, players have to choose a champion whom the player is going to be in control. League of Legends has more than 140 unique champions with distinct skills and abilities. Champion's abilities can be pretty distinct and the player has to learn how to play every single champion successfully.
Additionally, players earn gold for killing enemy minions or other champions, with which players can buy particular items during the match. These items make the player's character stronger and more powerful. All beforementioned can be pretty hard for novice players to comprehend In this article our team wants to tell you every single thing about coaching.
What Is Game Coaching?
The modern world provides us with coaches about every skill you could possibly think about. Do you want to learn how to play the piano? You can find the piano coach in your city. Did you decide to improve your character drawing skills? Okay, I'm 100% sure that there is at least one coach who will be glad to teach you how to draw unique characters. It is no surprise that with the rising of video games high-end players started to offer their services to new gamers. Coaching services give gamers a wide selection of coaches that knows for sure all the tricks, pitfalls, and rules of the game. Experienced trainers identify all your strengths and weaknesses, helping you to become a better gamer in League of Legends or another chosen game.
In the last few years, video games became number one among the other types of entertainment. The players from all other the world play in League of Legends, from Los-Angeles to Tokyo. With FineBoosting coaching service offer training in different languages, so don't be afraid of misunderstanding: everything will be clear. Besides that, you can also choose a specific role you want to play at.
Maybe you want to be a protective Controller, who oversees the battlefield and creates possibilities for his or her teammates, or you want to be a mighty mage who burns their enemies with potent spells. But, we need to warn you, that your League of Legends coach specializes in the chosen character.
So you need to make sure with what character you want to learn how to play with and unlock it beforehand.
Moreover, you can choose a suitable time: you will definitely find a free specialist for your time.
How Does Game Coaching Work?
It's very easy! During the creation of your order, you need to choose which champion you want to master. Our coaches will get in touch with you and you will figure appropriate time for your classes. Once, you get in touch with each other you can ask your coach some questions. You are going to have some theory explained, after which you will practice. The coach will analyze your game and will create a list of suggestions, according to which you will need to perform. We highly recommend you to listen to your teacher. He or She knows how to play this game better when you.
If you want to make your game better, you just need to choose the right coaching service and that's it. You'll get lessons and practice, some unique tips and tricks, and the development of your account. Also, it lets you understand your mistakes and fix them accordingly. This is how players improve and climb faster when they get coached.
Why Do I Need To Use League of Legends Coaching?
League of Legends is one of the most famous, exciting, and difficult games. Its popularity continues to grow, but many beginners spend a lot of time studying the game rules, all the characters, weapons, and skills. It may be so boring, right? So many players begin to play knowing nothing about the game, which leads to their losses.
But the more difficult game, the more exciting, right? It's boring to play easy games with weak players, isn't it? To become a better player and not to spend months studying the game you can choose the League of legends coaching and have an interesting and useful trainer.
Can I Learn The Game On My Own?
As we mentioned above, you can learn the League of Legends slowly, step by step, studying every part of it. But MOBA community is not the friendliest one. Players will scream at you for your bad performance and are going to ruin your game. During the first stages, we highly suggest you play with your friend, who is more skilled at League of Legends. It would be great if you will be able to create a group of five people who play the game.
Indeed, you have the opportunity to use boosting services. While you are learning all the parts of the game, an experienced gamer boosts your LoL account, giving you great clothes, weapons, and developing your skills. So you'll get an excellent boosted account after detailed studying the whole game.
Certainly, it's your choice: to study the game on your own or with Lol coaches. On one hand, you have the opportunity to learn by practice, on the other hand, you'll spend less time on unnecessary things. We hope, we helped you to understand all the ins and outs of the League of Legends coaching.
If you want to play LoL on your mobile phone, there is a simple solution! LoL has a massive amount of players worldwide and you have a unique opportunity to be a part of this amazing and huge community by installing the LoL mobile app.
With constant patches, ever-changing champion rankings, and various game modes, the League of Legends can be played by players of all talents and ages. And best of all, the LoL (including LoL mobile app) is completely free!
Why you should play LoL on your mobile device
If you wonder, what are the main pros of LoL mobile game, we have a full list that depicts why you shouldn't play only on PC-version:
You can enjoy LoL while traveling to school, university, or your work.
Gain new LoL experience during school breaks
Have fun in LoL from your workspace
Enjoy LoL while you are waiting for delivery to arrive
Play together with your friends in Co-op mode
You can save a lot of money by not buying a laptop to access the game
Stay in touch with your favorite game while being on a vacation/trip
System setup recommended for playing LoL mobile game on an Android device
System: Android 4.4 (or higher)
Memory: 1.5 Gigabytes of random access memory
Central processing unit: 1.5 GHz quad-core
Graphics processing unit: PowerVR GT7600
System setup recommended for playing LoL mobile game on an Apple device
OS: iPhone OS 9 (or higher,iPad OS if you are an iPad user)
Memory: 2 Gigabytes of random access memory
Central processing unit: 1.8 GHz dual-core (Apple A9)
Graphics processing unit: PowerVR GT7600
This game has good optimization, so the average device should run LoL swiftly.
LoL mobile: your first steps
To begin your journey in LoL mobile, you need to download the game from Play Market or AppStore. When LoL finishes the installation process, you are free to play League of legends anywhere you go and anytime you want.
If you still don't have a Riot Games account or haven't played LoL at all, you need to complete the procedure of registration. To access LoL on your Android or Apple device, visit Riot Games official webpage. There you will be able to create a new Riot account. Tap on the 'Create Account' option and you will be instantly diverted to the Account Sign up tab. From there on, the registration process is much easier and familiar to any Internet user – enter your electronic male, username, and accept Terms and Conditions, etc.
LoL mobile version: main changes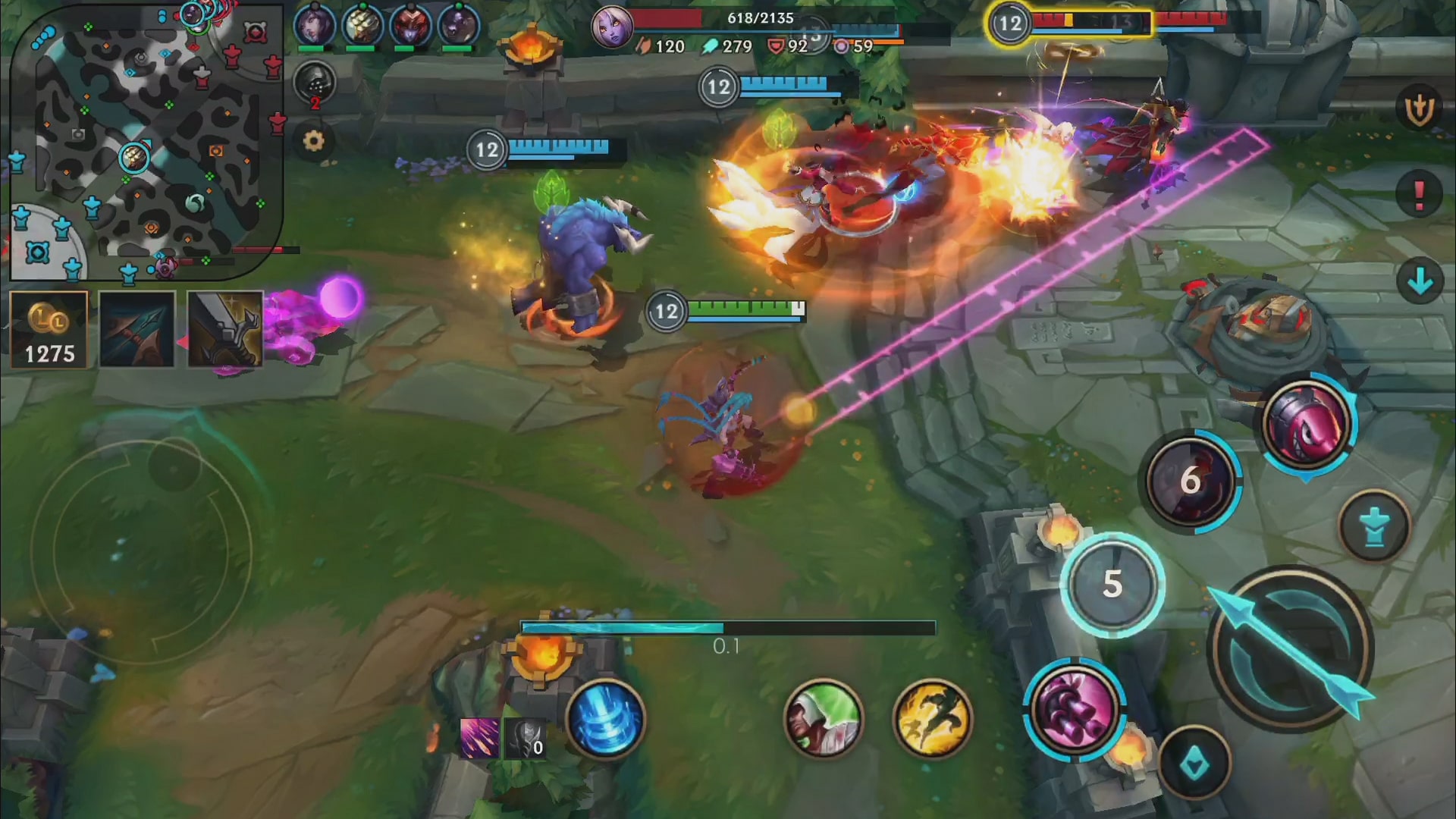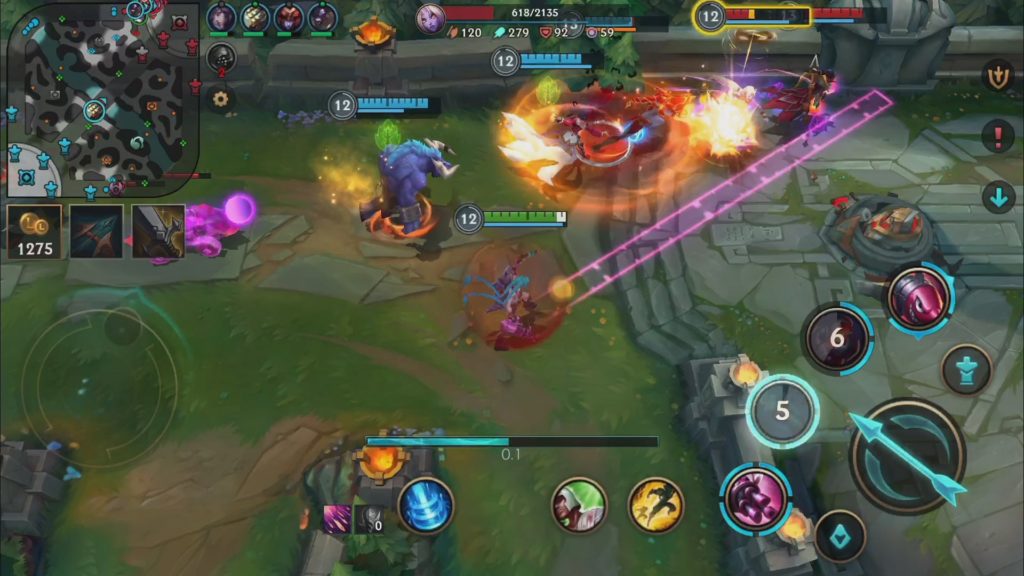 Maps: The maps in LoL mobile have undergone some changes in cosmetics and balance. These changes are meant to lower the time the LoL match takes. If it takes forty-five minutes on average to finish a game, on the mobile version, the matches last half as long.
The game's map is a reworked variant of the LoL original map. At the moment, the only map available is a mobile game version of Summoner's Rift. Although it dwindled in size and features, the map still is perfect for gameplay on 3 lanes and is suitable for five players per side.
Also, there are some major changes in the character's skills. For example, some skills that were passive in the main version of the game became active ones. There was an overhaul of some characters with the goal to make the game more balanced.
Conclusion
We hope that we were able to give you a lot of useful information about LoL on mobile devices. But what if you would like to play LoL more often but you don't have enough skill, time, or money? You should use fineboosting services! It will give you the ability to improve your skills and become a professional gamer. There is a wide variety of boosting types you can purchase for the lowest prices on the market! You'll save significant sums of money and an enormous amount of time while our professionals help you to become a real pro in League of Legends, including LoL on mobile! You have a unique opportunity to become a better player in your favorite game, don't miss it!
We should recall that League of Legends is a free-to-play MOBA, which comes to the Top 20 online games in the world. Riot Games provided a lot of new Patches, features, items, and champions from that time of release. Following the statistical data of the current number of players in the game, there are above one hundred million players online every month all over the world.
Many of them are new and don't familiar with game slang and mechanics. They have never heard about Trinkets, Smurfs, Ganks, and Smite, but they will learn new terms pretty fast while playing. And one day they will meet a new one – LoL boosters.
Lol boosters or Lol Elo boosters are people who boost who help to collect special season items and to achieve high game ranks.
Boosters in League of Legends
LoL boosters services become quite popular not in vain, more and more players want to compete with higher-ranked players, challenge themselves, and learn new professional game strategies and build more experienced players. Lol Elo boost has a lot of profits such as achievements, increased season progress, skins opening, and pure joy of playing with high-skilled players.
What is the main problem of LoL boosters? It's Confidence, actually because some of the players are afraid that their account could be stolen while boosting. They don't want to lose all their game progress because of hacking or just stealing their account. Except for the safety of Elo boosting, we have to tell about banning accounts.
Riots have a randomly choosing algorithm that is focused on those players who reach high rank in a short period, it doesn't ban them but checks their match statistic to make any decisions. They also sometimes check your location while playing these current and previous matches, so it's important to be prepared to not be banned.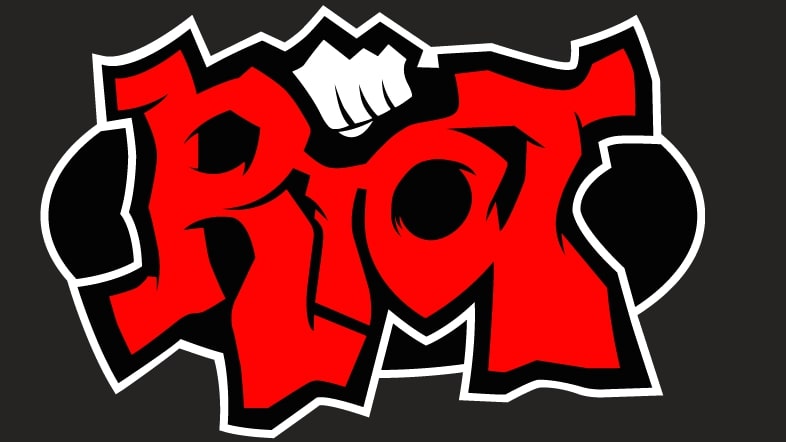 We prepared several recommendations about boosting:
Before buying Elo boosting, you should be sure that the company you choose has a good reputation and comments of users. If this source is worthy you don't have to worry about banning or hacking your account while boosting.
Also, make sure that your personal information is safe. Keep access to your email if something went wrong, but not be too nervous. After the end of boosting, the company will not be able to use your account anymore.
Another important point is your IP address. The account should have the same name of region during all boosting processes, it's because the game algorithms track your current IP address, especially when you have some supernatural rank or another kind of progress increasing.
Using Virtual Private Network or short VPN will solve this problem. LoL Boosters connect the client's account to the same region as always with a VPN. They use it during all processes of boosting. So system sees that all progress came from the same location.
For more confidentiality, you can request playing in offline mode, so any of your contacts will not see the LoL booster playing on your account.
Trying Elo boosting from FineBoosting company, you can save your time and get guaranteed fine result, for fine price with fine service. FineBoosting – try out and enjoy.
In today's article, we would like to tell you about a skill measurement system in one of the most popular modern games – League of Legends. Nowadays each LoL player is already acquainted with the League system since it was introduced to the majority of LoL servers. However, there was another system for measuring one's rating – Elo.
The League of Legends Elo system was applied to measure a player's skill levels. Its founder was a famous professor in physics by the name of Arpad Elo. Hungarian immigrant in the US, he created an enhanced chess ranking method. Since then it has been modified dozens of times and is still used in various sport and computer competitions. Modifications of Arpad's Elo are widely used in numerous multiplayer rankings, such as rugby, American college football and basketball, and even MLB.
LoL Elo was implemented only in multiplayer games so it wasn't possible to increase your score playing custom games or in a cooperative. Every game mode had its own Elo ranks, whether it's 5×5 or 3×3. Players unlocked their rank only after finishing five games in a specific game mode. Gamers received special badges in accordance with their score after a season.
LoL Elo: Ranks


The LoL Elo score was used to pick foes of a comparable talent to participate in ranked games as teammates or enemies. After five rating games played, the score was only visible. Gamers received special badges in accordance with their LoL Elo score after a season. Medals are classified into tinier sub-classes, such as Platinum II or Silver V, of various levels – bronze, silver, gold, and platinum. There is a 70-point gap for each sub-level (for example, Gold III is 1640 points, Gold II is 1730 points, and so on).
The players who scored from 1250 to 1399 points in Season I got a Bronze medal. Those, who got from 1400 to 1519 Elo points received a Silver rank, between 1520 and 1899 — a Golden rank, 1900 points and higher- Platinum rank. A new ranking system was implemented about 1 month before the end of Season 2: 0-1149 points to get a bronze, 1150-1499 points to receive a silver medal, 1500-1849 points required for Gold, 1850-2199 for Platinum and 2200 and more points for a Diamond rank.
It's worth mentioning that each server had its own ranking values before Elo was finally replaced. The only server where you still can find the LoL Elo ranking system is a Chinese one. The decision to leave the old system untouched was made because of how glitchy the new Leagues were in a Chinese client.
Calculating League of Legends Elo
There are some difficulties in finding out the exact number of an individual's League of Legends Elo. Game devs haven't released the exact Elo equations. Still, almost every Elo-based game and competition has similar fundamentals originally created for chess. It is believed that the output of each individual differed from match to match in roughly equal distribution and that the Elo rating of an individual was the average of his efficiency. Although it is considered that a person with a higher rating will play better on average than a player with a lower score, the true output depends on the team play. LoL Elo was determined solely by data on win/loss in comparison to other teams. As the match ended, the real outcome was analyzed and compared to the predicted result. Player rankings were changed to become more accurate and actual.
Rating decay
Before the revamp of the League of Legends Elo system in Season 2, players had to play rating matches frequently. If they didn't play any rating game for a considerable amount of time, their Elo was nullified. All players who had more than 1400 Elo were affected by this (and thus a high silver rank).
You lost 50 Elo on a Diamond rank, 35 points on Platinum, 25 points on Gold, ten points on Silver, and zero points on Bronze rank every four weeks during which the player was inactive and every other week after that.
Inactivity was scored in each game mode in the usual scoring system, Inactivity was classified only for the game mode in question in the ranking system (5v5 in a team, 3v3 in a team, and solo/duo 5v5 are rated separately);
Elo loss only applies to players who have been rated above 1400.
Players could prevent the Elo reset by participating in a match in one of the proper game modes.
There are no debuffs or bonuses for participating in a ranking match in a duet
To get a final score, players need to finish 10 games. Nevertheless, they received a preliminary score just after five matches.
Conclusion
LoL is an amazing multiplayer game, but it requires a huge amount of skill. However, if you don't have enough time for leveling up and you don't want to let your teammates down, use the aid of the fineboosting service. We have a wide variety of services and we can guarantee you that our experts will definitely help you to become a real pro in League of Legends!
Champion Ahri is one of the strongest heroes in League of Legends. The nine-tailed fox impresses with mobility. She is capable of destroying foes in two shakes single-handedly. It is also important that this character is quite easy to control. Therefore, it is suitable even for beginners. If you want to succeed in LoL, the Ahri Hero Guide will help you a lot.
She was amazingly beautiful and powerful. Using her charm, she seduced men and then killed them, absorbing more and more life force in an attempt to become a complete human being. But along with her growing humanity came moral oppression, and soon she found that she could not kill without remorse.
This story gave League of Legends Ahri the motivation for a brutal, cold-blooded genocide. She was driven by the desire to be human while remaining on the myths she was based on.
Ahri will appeal to players who prefer characters with a lot of variation in action, especially players who like to rip their foes apart unexpectedly. Ahri's dangerous, seductive nature won't leave anyone lukewarm. Let's look at what she does bring to the table.
Begin to play on Ahri in 2021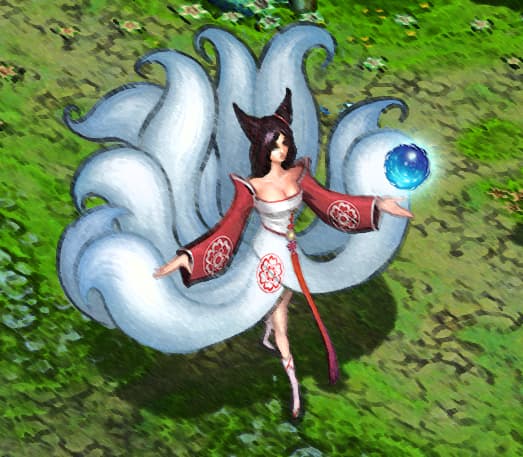 The game's initial stage lasts approximately from the beginning of the game until the 20th minute, also called the Laning Phase. This phase decides how the entire game will play out. The main tasks: farm creeps (at least 12 creeps per minute), not die, get more kills, and demolish as many towers/dragons as possible. This is your chance to finish the game faster.
In the early stages of playing for Ahri, you should farm as much as possible and impose skirmishes on your lane opponent. You have an excellent ability to fight once again on the lane. Thanks to the passive skill, you restore yourself a good portion of health every time. If you manage to catch your opponent with E, it is almost always 50% of your opponent's health. Once you catch him again, you will have a kill, and therefore a winning line.
Whether you win your lane or not, starting from 6th level you can walk along other lane, imposing fights, and help your allies. If you won the lane, it is worth helping your allies. You will most likely score a couple more kills and possibly destroy the tower.
Ahri's FoxFire ability
FoxFire is the ability that can cause insane damage. Not as good as Orb of Deception, but still don't sleep on this skill. A significant plus of the ability is that it is applied instantly. There is no long ability casting animation. There is only a small delay before the spheres begin to fly at the enemy, but this disadvantage can be used to use this ability, and then the ult immediately. In such a combination (if everything is done quickly), the spheres will not have time to react. Of course, the ult must be applied properly next to the enemy champion. The spheres are primarily targeted at the enemy champion, as long as he is within the ability's radius. In light of this, you can calmly activate minions in a crowd and not be afraid that the spheres will fly at the minions.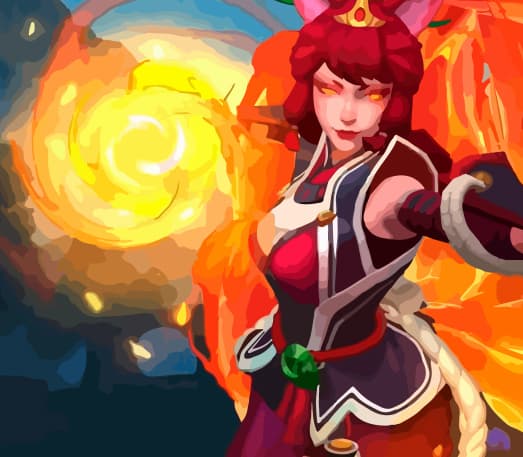 LoL mid game on Ahri
It is the main phase of the game. They run from about the 20th to the 45th minute. It becomes more difficult to play because the slightest mistakes can have big consequences.
At this stage of the game, team skirmishes and the struggle for towers and dragons (also a herald) already begin. Try to watch for your opponent in an unobvious place to kill him lightning-fast. In team battles, you should not show up until a certain moment, and when you spot the enemy shooter, then you should kill him. If you cannot perform these actions and you have already been attacked, help your shooter with E. This will give him the opportunity to survive and shoot to the fullest.
Ahri's benefits in LoL in 2021
She's able to adapt to the game thanks to her abilities set and the capability to quickly attack and run away simultaneously.
She is very mobile due to her ultimate Spirit Rush.
A magnificent champion for ganks and constant pressure on the enemy.
Feels great in mass mixes.
All ult jumps deal damage to enemy champions in addition to good mobility.
She's able to get out of almost any critical situation.
Mobility (thanks to Ghost Dash on the R key). It is almost impossible to catch you on the map in any situation, as well as run away from you. Ghost Dash gives you the ability to eliminate an enemy from an ambush when he doesn't expect it.
Burst damage. Ahri has colossal, instant damage, sometimes three abilities are enough to kill the enemy.
The more you gain benefits, the stronger you become. Take a couple of kills right at the start, and you can't be stopped.)
Control. Ability – "Charm" (E) is an excellent control throughout the game. It allows you to kill your opponent / save a friendly champion / save yourself when you need to run away.
Treatment. With the help of a passive ability, you feel great throughout the game.
Good potential for entering enemy lines. Starting at the 6th level, you should visit neighboring lanes more often to take even more advantage. A successful entry to another lane can give you a couple of kills and a tower, as well as a large amount of gold.
Good line cleanup. Ahri feels good enough on the lane, you calmly kill enemy minions with Orb of Deception (Q) from afar.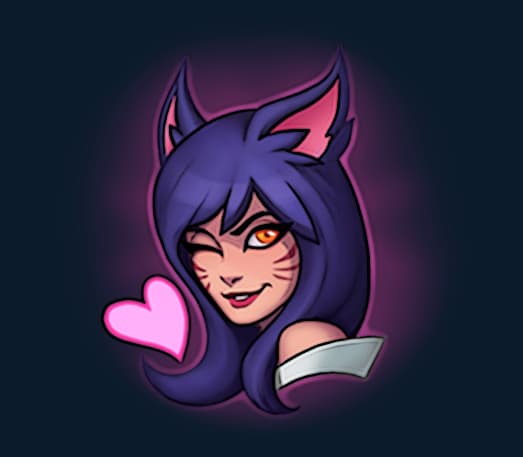 Late stage of the game on Ahri
This phase of the game starts from the 45th minute. If you lose at least one team member, most likely you will lose. Each player has a full purchase, and accordingly, maximum damage and maximum efficiency.
In this phase, if you get killed, then the game may end.
Conclusion
Indeed, she has high mobility, variability and looks good in hairy situations. Ahri is good for both ganks and calm, measured play. The main thing is not to die at the very beginning on the lane, which is not difficult with her set of skills.
However, she's too vulnerable at the beginning of the game. You need to stand on the line carefully. Each player has a different playstyle and you can certainly experiment. But if you are just learning the ropes, use the following combos in the game:
Press the ult, approach the enemy, and launch FoxFire at him. Then you need to hang a charm on the target, launch an orb, ult again and inflict damage with Ignite!
Basically, you need to do everything the same as in the first combo, but use Lich Bane instead of Ignite. Alternate Lich Bane with Fox-Fire, and Orb until the enemy champion dies!
Hit your ultimate, activate FoxFire, pull in an enemy, and launch an orb at him. Catch up on the target with your ultimate and use Zhonya's Hourglass!
The above combos can be used both in single fights and in massive fights. But do not rush into a crowd of enemies alone, Ahri does not have such a large health reserve to tank.
If you feel that using Ahri is above your paygrade, don't hesitate to order League of Legends boosting services. Seasoned professionals have a wealth of experience and can help you to master your LoL abilities and get anything you want. We are always agog to lend our helping hand to you. Do you want to play like a real ace and know all the game's intricacies? Are you dreaming of playing Ahri like a pro? Place an order and we got your back.
It may be interesting: Everything You Need To Know About LoL Mastery
Jinx is a belly-to-the-ground hoodlum. Looking at League of Legends Jinx, most people see a crazy girl with a deadly weapons arsenal. But some remember the almost innocent girl from Zaun, with big plans for the future, who did not want to adapt to others. No one knows how this sweet child turned into a reckless bully, notorious for her thirst for destruction. But the fact remains: as soon as Jinx burst into Piltover like a hurricane, legends began to circulate about her unique talent to cause mayhem.
At first glance, it seemed that the unknown weirdo chose her goals by chance and was driven solely by the desire to sow chaos. And yet, her tricks led to unspeakable havoc.
Of course, the city guards attributed some of her antics to gangs of cheated punks from the lower city. Jinx did not like that her crazy plans were credited to someone else, so she began to try to be noticed at the scene of every crime. And soon, they started talking about the mysterious blue-haired girl from Zaun in the city, carrying with her a chemical explosive, a grenade launcher in the shape of a sharp-toothed shark, and a repeating gun. However, the authorities considered these rumors to be sheer nonsense. Indeed, where would such a formidable weapon come from among the street scum?
It seemed that the series of daring crimes Jinx would never end, and the guards' attempts to apprehend the intruder invariably failed. At the crime scenes, she began to leave bright inscriptions and other mocking messages to Peacekeeper Wai, Sheriff Piltover's new ally in the fight against crime.
Jinx development in League of Legends
Over time, Jinx's fame grew in 2021. The opinions of the zaunites were divided: some considered her a hero. Others called her a dangerous psycho who threatened to worsen the already strained relations between the two cities.
A few frantic months later, Jinx revealed her wildest intentions. On the Eclipse Vault walls, one of Piltover's most trusted treasures, she has painted an extremely unflattering Peacekeeper Vai's caricature with her signature bright pink color, accompanied by a detailed plan of her future heist of the vault.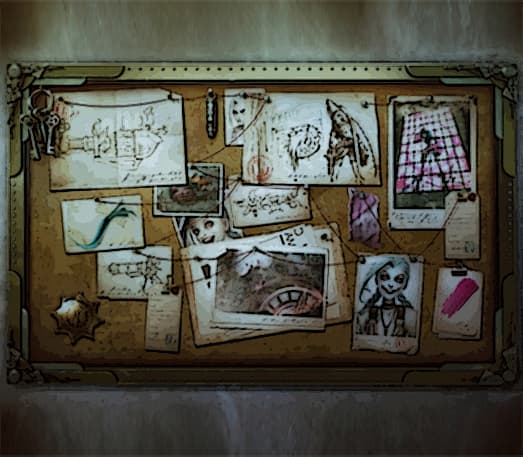 In the days remaining before the date of the promised robbery, suspense reigned in Piltover and Zaun. Many even doubted that the criminal would have the courage to appear where she would almost certainly fall into the hands of justice.
Jinx still walks free, remaining an eternal headache for Piltover. Her antics gave rise to imitators, a lot of satirical performances ridiculing the guards, and even a few new colloquial expressions in both cities. Until now, no one knows what Jinx is seeking, but one thing is for sure: she is not going to stop and commits more desperate and reckless crimes.
Pros and cons of LoL Jinx
Pros:
AoE damage allows you to kill minions and break towers in no time. There is good potential for permanent harassment of the enemy in the lane.
Jinx has an extremely high attack speed due to her Switcheroo machine gun.
Ult can inflict tremendous damage.
Magnificent Flame Chompers traps are insane, so you can stop several enemies at once.
Jinx can quickly exit the battle or catch up with fleeing enemies on the contrary.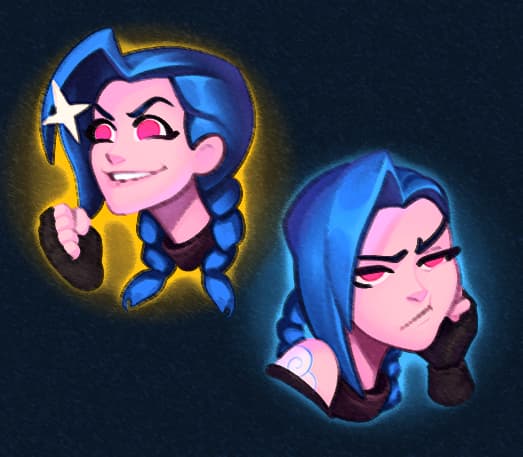 Cons:
Difficult champion to master.
There are no escape skills.
Small machine gun's firing range.
The second to none Jinx skills
Get Excited
Under normal conditions, high movement speed allows you to pursue enemies very effectively when it comes to team battles. The undoubted skill advantage is that it works even if Jinx helps in killing the enemy. It gives an incredibly massive bonus to movement speed and a decent duration (but the acceleration effectiveness will gradually weaken). Frequently, it helps to get out of the battle after a successful lightning-fast kill. The attack speed bonus will also be useful, but it will only work if we kill or help kill more than one champion enemy.
Switcheroo
The trendy Jinx's feature in 2021 is the ability to switch between weapons instantly. The machine gun is great for shooting a single enemy in no time, and the bazooka is ideal for massive battles, as it has splash damage and increased firing range. You could run with one bazooka, but in this mode, it won't last long. Please note that if you first fired a machine gun and then suddenly switched to the bazooka, the attack speed bonus would disappear instantly. In general, you need to learn how to combine weapons and understand when to use them.
Zap
Zap's a solid fighting skill, which deals good damage and slows down the target. Unfortunately, the skill has a preparation time, and the enemy can dodge the projectile. Besides, only the first target receives damage, and if the enemy is hiding behind the minions, it will be challenging to hit him. The skill has a good increase in damage, and even at a game's later stage, deals decent damage.
Flame Chompers
It's the greatest controlling skill. Of course, traps do not last forever, but there are 3 of them, and enemies are likely to step on them. It is especially good to use the skill after your ally has already applied some control skill to the enemy. In this case, traps can be thrown directly at the controlled enemy and thereby prolonging the target's control. Please note that the trap does not stun but chases the enemy to the ground. The enemy can still attack or use skills but cannot move.
Super Mega Death Rocket
It's the most challenging skill to apply. It can be compared to Ezreal's Trueshot Barrage Ultimate or Ash's Enchanted Crystal Arrow Ultimate. The ult deals a lot of damage, especially if the target is already pretty beaten, but the ult still needs to be hit, and this is the most difficult thing. The ult is often not applied immediately since the damage is highly dependent on the target's missing health. In other words, the skill is ideal for finishing off fleeing enemies. The range of the ult is not limited.
Jinx can safely launch a rocket from the bottom lane and hit the enemy, for example, on the top lane, but it is vital to understand that the farther the rocket flies, the harder it is to hit. Please note that the ult can hit several targets at once. The rocket crashes into one target and hits those nearby. Neighboring targets do not receive full damage, but the total damage is impressive. It is especially good to use the skill in team battles since, it will be much easier to hit with a rocket.
Choice of spells & artifacts on Jinx in 2021
If there are champions in the lane against you that can reduce the effects of healing, it is better to use Barrier instead of Heal. When the enemy team has many powerful control skills, it makes sense to use Cleanse. In most cases, it is better to use the standard treatment and jump option.
First of all, it is better to boost the Switcheroo! With each level, the bazooka's firing range will increase, making it easier to farm and damage enemies from a long distance. Besides, the machine gun will shoot much faster. Zap does good damage and can greatly slow down the enemy. Be sure to use the Flame Chompers. It will allow you to initiate a battle and provide a way to escape at a difficult moment. At the initial purchase, it is best to increase your damage, and a standard sword is ideal for this purpose.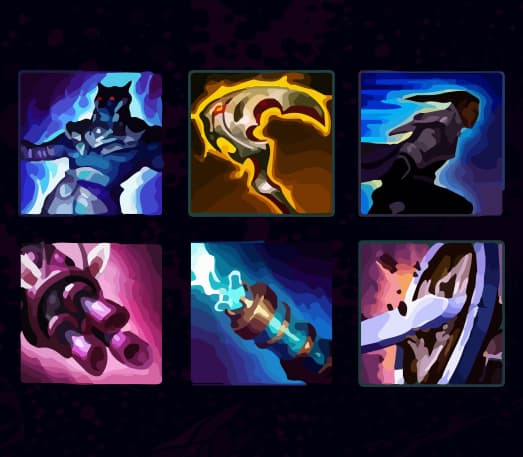 Doran's Blade is an excellently balanced artifact for the damage dealer. Of course, it can no longer be improved in the future, but it will serve you almost until the game end. It is worth selling it when you run out of space in your inventory, and you need to buy something more expensive and powerful.
At the beginning of the game, you need to farm a lot and hard since the first artifacts are very expensive. Of course, it will be much easier to manage to kill the enemy 1-2 times or if the forester helps you. But in general, the bulk of the money will be earned by finishing off minions. Usually, at the beginning of the game, there is a small choice between the two artifacts, Infinity Edge and Runaan's Hurricane.
Of course, both can be used in the final build, but it will depend solely on the situation and how well you farm at the beginning of the game. If you don't like Runaan's Hurricane or it doesn't fit the current game, it is best to replace it with Statikk Shiv. Berserker's Greaves take boots in the overwhelming majority of cases, accordingly, increase the hero's combat potential to increase the attack speed.
It is essential to understand that Jinx is primarily a carry hero who must deal with a lot of damage, and therefore the bulk of artifacts is bought with damage. Usually, one artifact is more than enough for protection. Moreover, protective items are bought at the very end. The following are good for the artifacts for damage: Rapid Firecannon, Bloodthirster, Phantom Dancer (used very rarely), and Lord Dominik's Regards (buy if opponents have very good defense). Of the defensive artifacts, the Guardian Angel, Banshee's Veil, or Mercurial Scimitar are usually used (if the enemy has a lot of control).
Enemy Champions
Jinx experiences the greatest difficulties against enemies with a good attack range and the ability to wage trench warfare. Enemies with solid initial damage will also be problematic. Below we will look at a few enemies that can cause severe difficulties.
Ashe
Ashe is not the toughest champion to start the game, but she has a good attack range, unlike Jinx, and can cause insane damage to you. At level 6, Ash will have an extremely powerful Ultimate, Enchanted Crystal Arrow. At this point, you need to make sure that there are wards on the approaches to the lane since you will not have a chance to escape. In general, you can stand against Ashe, the main thing is to stay away from her fatal arrows.
Miss Fortune
On the one hand, it may seem that Miss Fortune has a reduced attack range like Jinx, but her skills and high potential offset for early harassment. If she plays competently and aggressively, then she will simply torture you with her Double Up and Make It Rain skills. It is challenging to dodge these skills. Break a leg, warriors.
Draven
Draven will have the advantage due to the Spinning Ax skill from the first level. Do not try to kill him, as it will not be in your favor. At this point, you can use your Flame Chompers or Zap. If there is a champion with Draven in the lane who can stun you, then things can go really bad. In this case, it is better not to risk it and keep your distance, finishing off enemies with your bazooka. Draven has a small attack range, and Jinx has the advantage when she attacks with a bazooka.
General tips for playing on Jinx in 2021
Jinx is one of the best champions for quick minion kills and lane pressure. This is due to her Switcheroo skill. At the beginning of the game, Jinx does not have any super abilities and largely depends on how her lane ally plays. Think out of the box and play the entire beginning of the game on farming. Try not to miss a single minion. As soon as an enemy gets close to finish off a minion, you can abruptly switch to the bazooka and fire a few shots at it. If you have a good ally on the lane with you who can attack enemies perfectly (Leona, Taric, Blitzcrank), you must help him every time he lunges towards the enemy. It is worth remembering that Jinx has phenomenal Flame Chompers.
Jinx begins to reveal her full potential halfway through the game and has the maximum Switcheroo skill's attack speed bonus. And the powerful ultimate Super Mega Death Rocket, which can instantly change a battle's outcome. You can play aggressively in the middle of the game and constantly push opponents in the lane. Even if you fail to kill the enemy damage dealer, you can quickly kill the minions and gradually demolish the tower.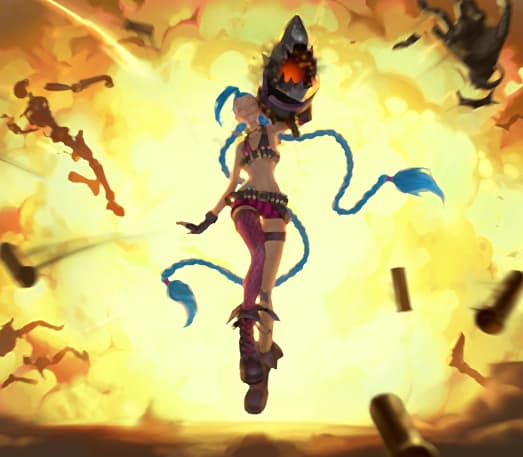 As soon as you succeed, you can ask your forester for help and move towards the Dragon. The enemies will already be much more difficult to resist you since the safe zone will be far away (the first tower on the bottom lane will be destroyed). Remember that you need to kill the Dragon with the maximum number of allies to waste as little time as possible, and the enemies could not react quickly. It would help if you always acted as part of your team and not try to run on your own.
Bear in mind that Jinx has no escape skills and can die quickly at any moment. Be sure to use traps in any team battle, as they make it possible to pin three opponents to the ground at once. Ult is an excellent skill, and it is not necessary to use it to finish off fleeing opponents. If you see that the opponents are heaped up and have already lost part of their health, you can safely use the ult and inflict good massive damage.
At the end of the game, Jinx will be a no brainer, but you should make sure that your team is always there to protect you. If the opposing team wants to kill you quickly, then they will do it without any problems. And without a damage dealer, your allies will die in a heartbeat. Of course, you can no longer influence your allies' game. If they played poorly and scattered, then you will not be able to drag the game. Always keep in mind the important neutrals: Dragon and Baron. By the way, the Baron plays a crucial role in massive battles. The team that received his buff gets a solid bonus to damage and can easily beat in a mass mix. Try to constantly monitor these neutrals and kill them as soon as possible.
Conclusion
Overall, Jinx is a powerful champion and a tough nut to crack. You need to play at least a few dozen games to understand this champion's play style. Jinx can do a lot of damage, but you need to learn how to farm well throughout the game and quickly react to all dangerous situations. If you like damage dealers and have not yet decided on your favorite hero, try playing Jinx. Do not forget about the fineboosting. It's your chance to play like a real ace with the aid of lol boosting. The seasoned professionals are as tough as old boots and have prowess in the LOL game. They will teach you how to play Jinx in no time. Maybe this is your champion, who will perfectly suit your play style.
Read more: League of Legends Coaching: Briefly About The Main