14 June 2021
Psyonix game developers tell that all Rocket League Crates systems will be removed soon. The Update is coming in December.
The first important thing to tell about is replacing Crates with Blueprints. So now after finishing the match, there will be a random shot to have Blueprints drop. Players can check what can be made of this particular Blueprint and then decide – create it or not.
The second one is Credits. A new type of game money. Players will use them for creating items from Blueprints and for a new Item Shop and Rocket Pass Premium upgrading. After this patch, all your Keys will be transformed into credits.
The initiative of providing Blueprints is based on the new law, which says that all "surprise mechanics" should be removed from games, to avoid children buying them. That's why game developers also have to change their Rocket League Crates to Blueprints.
Another new change is the Trade-In system, developers warned that after the update players will not be able to use "paid content" in it. In this list are the Item Shop, Blueprints, and Rocket League Crates, but those free drops that you have after the match will able to trade.
The last one is cosmetic changes of inventory options. Players will be allowed to archive those items, they don't like to use in the list of customization.
Which of Rocket League Crates worth opening before the removal?
Another question is – which off Rocket League Crates are best? If you want to know which of them are the best and contain rare items, here is a detailed guide for you.
Rocket League Crates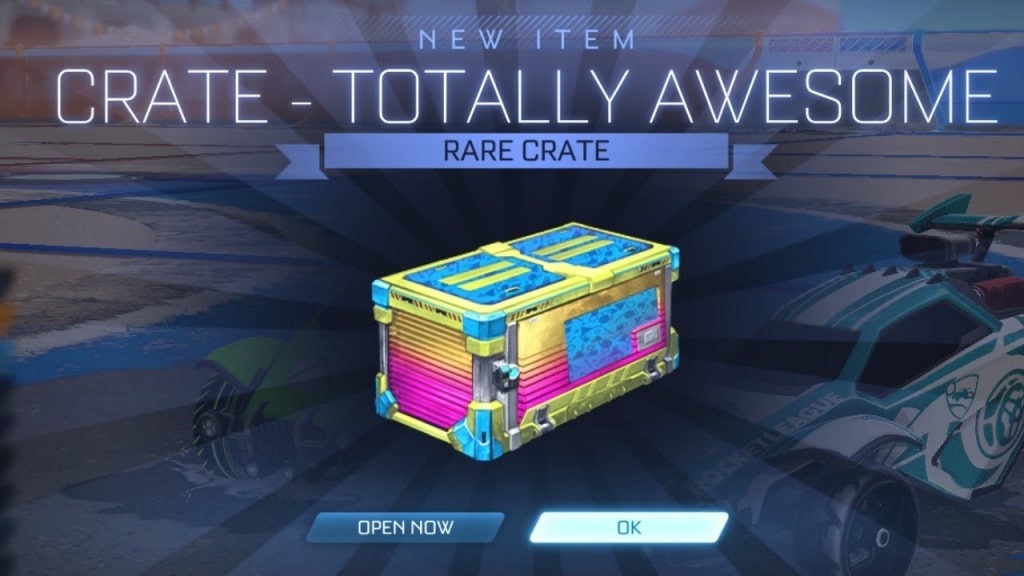 Rocket League is a paradise for creative gamers because there you can customize your car with a lot of aesthetic items and have the most extraordinary battle car in the game, flying on it and collecting goals. You always have a chance to catch the drop after matches, but if you open them you should have Rocket League keys which costs you real money.
Top 5 Rocket League Crates
1.Players Choice
Full of rare items like Titanium White Dracos and White Zombas wheels and have a high chance of an amazing drop.
List of items:
Funny Book: Dominus
Yamane
Mainframe
Dragon Lord: Octane
Jäger 619 RS
Reaper
Infinium
Gaiden
Pearlescent Matte Finish
Comet
Zomba
Lone Wolf: Octane
Fire God
Twinzer
Draco
StarLighter: Jäger 619 RS
Dissolver
Solar Flare
2.Triumph Crate
New Rocket League Crate. Сontains very rare and expensive Black Market items, like Dissolver, the Storm Watch, and the Toon. Worth it to try your luck.
List of items:
Atomizer
Rose King: Animus GP
XVI: Jäger 619 RS
Machina: Centio V17
Royal Tyrant: Octane
Hypnotik
NNTR: Dominus GT
EKG-OMG
Samurai
Diomedes
Dissolver
Kyrios
Comet
REEVRB
Storm Watch
Dot Rush: Octane
Lift-Off
Toon
3.Velocity Crate
Another interesting Crate has a wide variety of Goal Explosion items. The best one and the most popular is Dueling Dragons. Also has three Black Market items to drop.
List of items:
Dueling Dragons
Slimline: Octane
Poly Pop
Odd Fish: Animus GP
Hiro
Mummified: Endo
Hikari P5
Yuzo
Smore'd: Breakout Type-S
Anodized
Party Time
Snakeskin: Mantis
Imperator DT5
Zigzag
Fractal Fire
Equalizer
Sub-Zero
4.Ferocity Crate
This Rocket League Crate contains very popular and marketable items like Zowie, Asik, Jayvyn wheels, and lots of others.
List of items:
Asik
Zowie
Diestro
Hat-Trick
Good Shape: Twinzer
Gale-Fire: Octane
Hex-Tide
Windblast: Octane
Taniwha: Breakout
Straight-Line
Tumbling Blocks: Octane
Intrudium
Jayvyn
Pyrrhos
Solar Flare
Glitch
Wet Paint
5.Impact Crate
Another new Rocket League Crate, unique items, and very expansive Fire God and Streamline for the luckiest ones.
List of items:
Fire God
Staredown: Dominus GT
Streamline
Masato
Splashback: Centio V17
Windswept: Imperator DT5
Reaper
Enchanted
Migraine
Sundae: Road Hog
Burnout
Cirrus
Santa Fe
Centro
Atomizer
Juiced
Twinzer
Is it possible to have an easy way to come to the top? Yes, it is. With FineBoosting you will have affordable prices, guaranteed results, friendly customer support service, and pure joy pleasure of playing in one. Try FineBoosting!